Who We Are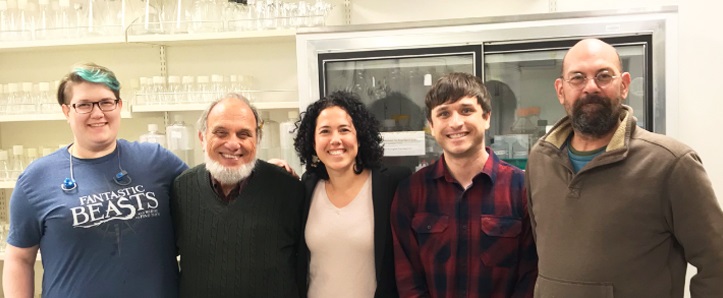 From left to right: Aaron Cooke (Lan Technician), Carmelo Tomas (Emeritus Professor), Catharina Alves-de-Souza (ARC Director), Charles Wingert (ARC Curator and Lab Manager), Robert York (Mass Culture Specialist)
The Algal Resources Collection (ARC) is focused on the growth and maintenance of harmful algal species with special emphasis on the toxic taxa. ARC presents the opportunity for academic, commercial, and industrial research to explore the use of living marine microalgae for a variety of applications such as nutraceutical, pharmaceutical or biomass studies.
The collection began in the Florida Marine Research Institute, in 1987. Initially consisting of a number of toxic dinoflagellates isolated from Florida local waters, it soon expanded to include toxic taxa from other groups. The collection was transferred in 1999 from Florida to the Center for Marine Science at the University of North Carolina at Wilmington (UNCW). In 2013, the collection was moved to the newly constructed MARBIONC (Marine Biotechnology in North Carolina) building at UNCW's Crest Research Park. Initially a private research collection, ARC became a service collection in September 2016 when our strains became available for purchase by the scientific community.
ARC is supported by the National Science Foundation Living Stock Collections for Biological Research program (NSF 1756414) and by users like you. Thank you for your support!
For further information, contact ARC Director Catharina Alves-de-Souza (desouzac@uncw.edu).